Bhogali Jalpan, now a renowned brand in the Food and Beverage sector of Assam, started off with just Rs. 300 as an initial investment. The brand that has dedicated itself to promoting authentic Assamese delicacies and food essentials, started off as mere distribution of homemade food to friends
Founder of Bhogali Jalpan, Ajit Kumar Sarma Baruah, recalls to Business Northeast how he use to distribute the food sent by his mother amongst his friends in Guwahati. Foods like pitha guri (rice powder), suji (semolina), xandoi guri (roasted rice powder), akhoi, and others.
"I belong to a farmer's family from Tengapukhuri, Sibsagar. Back when I came to Guwahati, my mother used to send me all the homemade goods like komol saul and xandoh. I used to share those with my friends and colleagues, especially the non-Assamese ones, and I noticed that they loved it. They would ask me for more and even enquired where I got those from," recalls Baruah.
"I used to ask my mother to send in larger quantities so I could sell it in the shops of Guwahati. And when my friends asked me for more I would guide them to those shops. This led to the idea of selling these indigenous Assamese goods in a commercial manner. And Bhogali Jalpan was founded in 1997.
Baruah mentioned that his initial investment was just Rs.300.
"My first investment has to be the Rs.300 which I spent on buying plastic packets from Fancy Bazaar for packaging the raw materials which my mother used to send me from Sibsagar. I just did the packaging and sold. And the demands kept on rising," said Baruah.
"Not only the Assamese people but non-Assamese people were also relishing the goods," he added.
Ajit Baruah managed to impress the District Industries Centre (DIC) with a project report of his venture, and received a subsidy of Rs.1 lakh. He bought a grinder. With this Bhogali Jalpan started off by grinding rice, roasted rice, chiwda, Akhoi, and many other items were added and with this, he boosted Bhogali Jalpan.
In 2007 as his demand for products increased he expanded his production to Bamunimaidan which he got as a lease from the state government.
"I received an industrial space of 1500 square feet from the government in Bamunimaidan but since the space was very small, I and my employees were having quite a difficult time abiding by the industrial protocols set by the law," said Baruah.
Assam Small Industries Development Corporation (ASIDC) also offered Bhogali Jalpan a space in the food processing park in Chaygaon. In 2011, the brand started its second industrial unit in Chaygaon where he stumbled upon a lot of obstacles.
"We were the first brand to set up an industrial unit there. The area did not have electricity, flowing water, drainage, and many other things, and I spent my own money on getting those necessary minimal resources. We didn't get any infrastructural support from the department", said Baruah.
In 2011 he took a loan of Rs.65 Lakhs from the bank for setting up the industrial unit in Chaygaon.
Bhogali Jalpan has completed 25 years of popularising traditional Assamese food. With more than 80 employees on board, Bhogali Jalpan has become a pioneer in providing traditional Assamese materials for cooking.
He started by selling only two items and now they are selling more than 35 items. They have also introduced two value-added products which are ready to eat 'Milky Jalpan' and 'Milky Xandoi' and can be served directly without any hassle by just adding lukewarm water.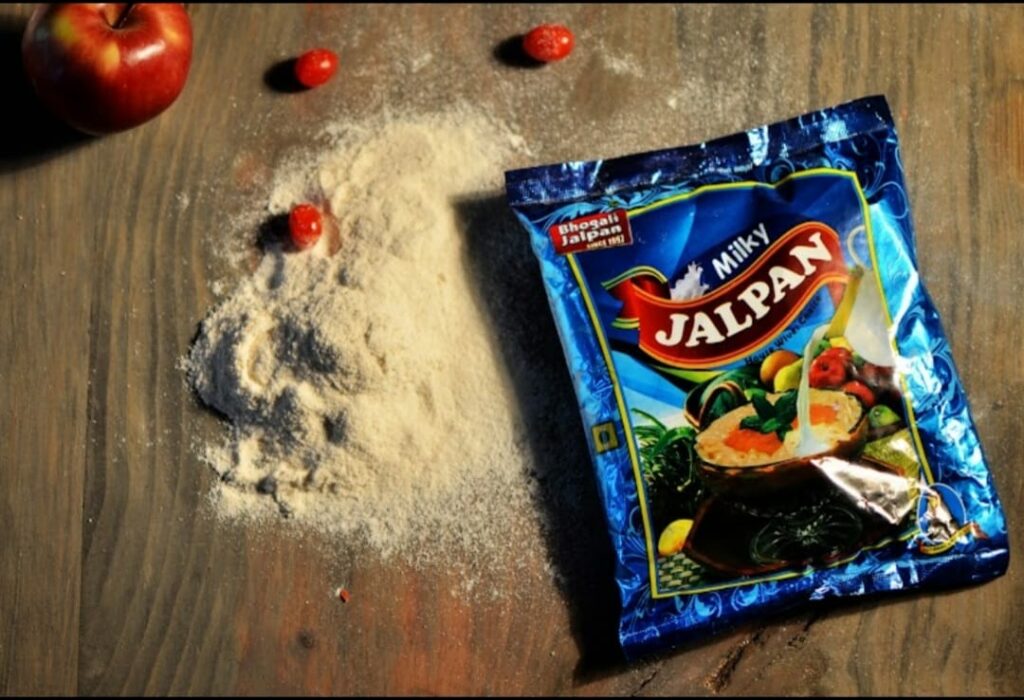 From investing Rs.300 to a present turnover of more than Rs.6 Crore Bhogali Jalpan has come a long way in providing traditional Assamese food items which have also made our procurement of traditional raw materials easier.
ALSO READ : ASTEC creates a safe haven for entrepreneurs, innovators to protect against copyright infringements