Biofloc Technology (BFT) is seen as a new "blue revolution" since nutrients may be continually recycled and reused in the culture medium while minimizing or eliminating the need for water exchange. BFT is an aquaculture technique based on in-situ microbe generation that is environmentally favourable. Biofloc is the aggregation of live and dead particles of organic matter, phytoplankton, bacteria, and bacteria grazers that form suspended growth in ponds/tanks. It's the use of microbial processes within the pond/tank to supply food resources for cultured organisms while also acting as a water treatment solution. As a result, active suspension ponds, heterotrophic ponds, and even green soup ponds are all terms used to describe this system.
By 2050, the world's population is predicted to exceed 9.6 billion people, and as demand for animal protein rises year after year, it will be a struggle to deliver high-quality protein while protecting natural resources for future generations. Aquaculture, in this context, plays a critical role in boosting health by providing animal protein while also creating jobs and economic prosperity.
How does Biofloc Technology work?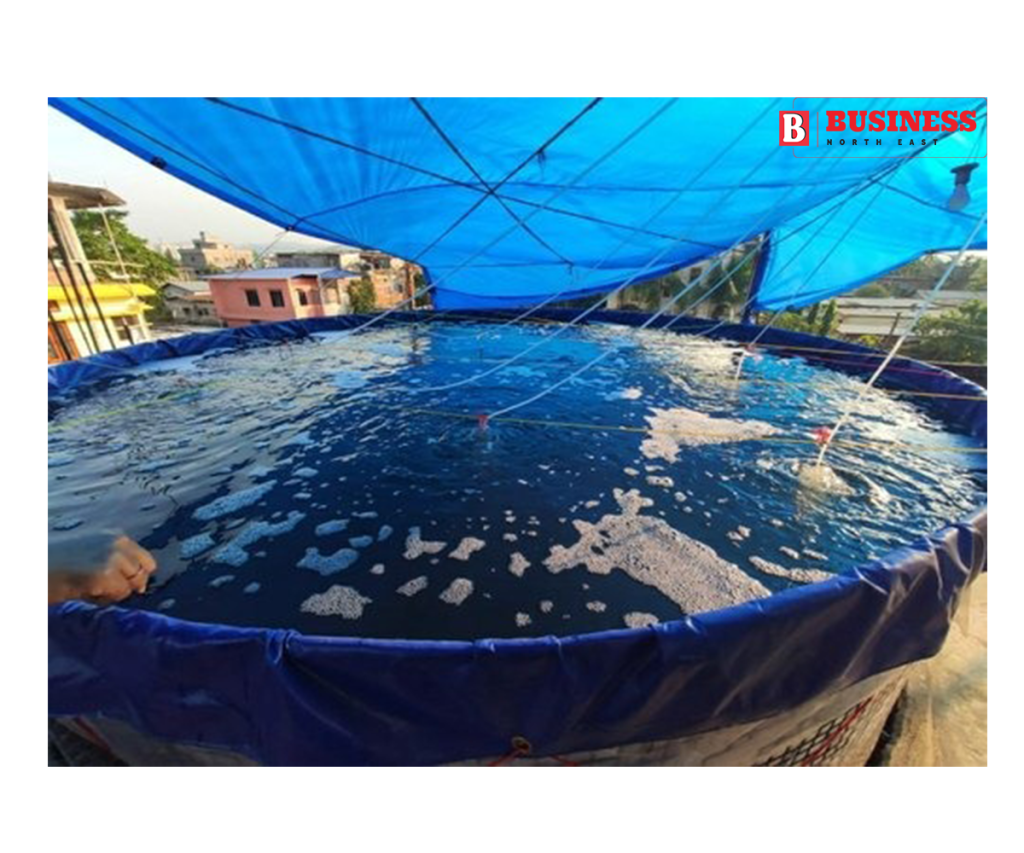 The Biofloc system is a wastewater treatment device that has become more important in aquaculture.
The technique's principle is to maintain a greater C-N ratio by adding a carbohydrate supply and to improve water quality by producing high-quality single-cell microbial protein.
Heterotrophic microbial growth occurs in this situation, which assimilates nitrogenous waste that can be used as a feed by the cultured species and also serves as a bioreactor for water quality control.
Because heterotrophs' growth rate and microbial output per unit substrate are ten times larger than autotrophic nitrifying bacteria, hazardous nitrogen species are immobilized more quickly in biofloc.
This method is based on the notion of system flocculation.
How BFT is supporting youth?
This technology also brought income opportunities to many youths, with an increasing number of young people losing their jobs and income during the pandemic hit looking for new opportunities, the fisheries department launched a new programme to promote intensive aquaculture using biofloc technology.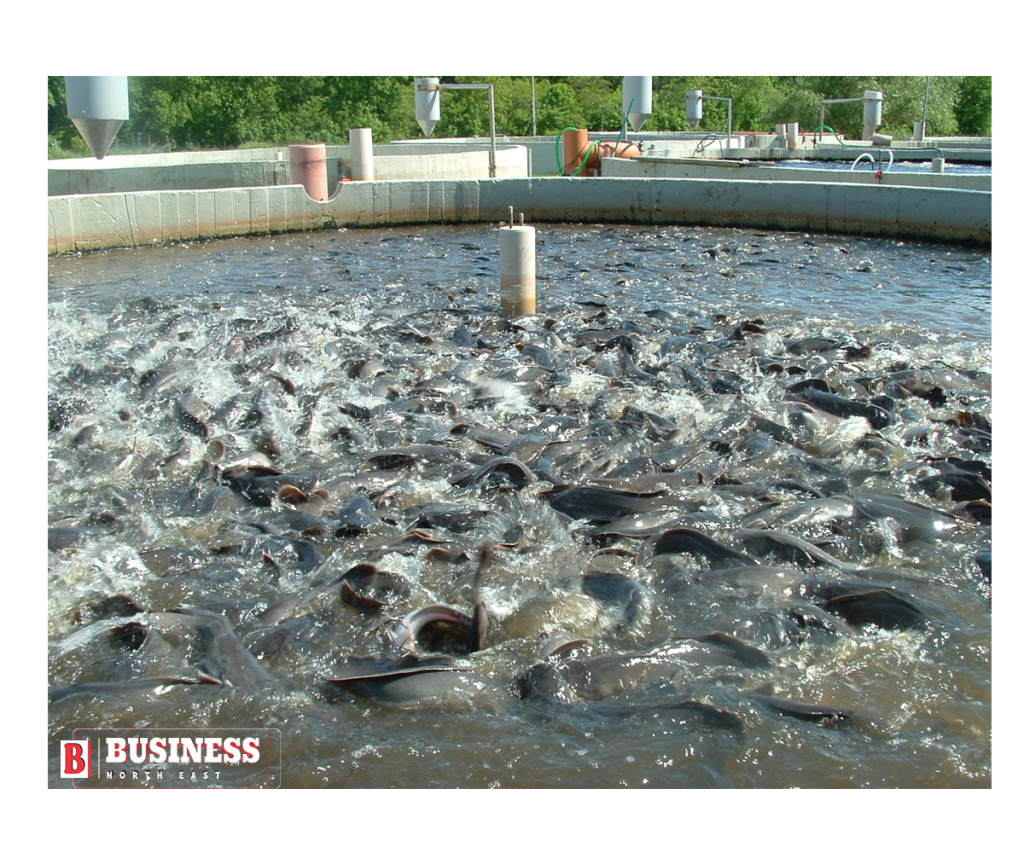 This initiative, which has already attracted a large number of participants, will provide financial assistance to entrepreneurs, unemployed youths, and progressive fish farmers, as well as improve fish production in the state.
Assam has more than 2.86 lakh ha of various water resources. Ponds, rivers, tanks, and beels are examples of different water resources. The Brahmaputra and Barak rivers, as well as their tributaries, run through the state. In Assam, more than 90% of the population eats fish, and the fish market is booming. The fishing sector is a major driver of the state's socio-economic development.
Contributions of NE Entrepreneurs in Biofloc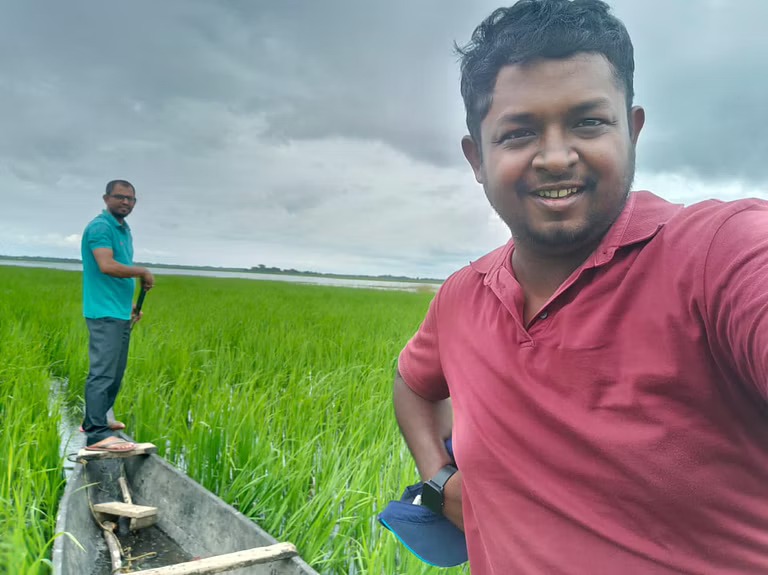 Mr. Uddipta Hazarika of Gohpur, Assam, began his own fish farm in wetlands and was the first in the North East to establish Biofloc Fish Farming. "The entire Biofloc Fish Farming technology is based on Israeli technology. Now, we can't dig a fishery on any site we want. There is a rule that nice and productive land cannot be used where fisheries are dug in significant numbers. However, Biofloc is a type of technology in which a farmer with 10,000 litres of water can generate at least 7 to 8 quintals of fish in a year provided he or she can scientifically maintain bacteria. So I went through with this notion and was pretty successful in the first year.", says Mr. Hazarika.
Jaidev Sarkar, a resident of Bijni's Goraimari neighbourhood, has pioneered the Biofloc fish farming technology in his community. He declares, "Biofloc fish farming is a gift to the region's youth's self-sufficiency. Biofloc technology is not only efficient at treating waste, but it also provides nutrients to fish and shellfish farms."
Another entrepreneur from Jokapura village near Gohpur town in north Assam has proven how a community can turn their disadvantage into a thriving success story even during the Covid era.
Anup Sarmah, an entrepreneur, has transformed a 10-acre fish pond in the middle of a 30-square-kilometer wasteland into a 210-bigha (70-acre) project. He divided the fishery into 32 ponds and nurseries, trained 20 families, and now they are supplying 20% of the fish consumption needs of the Gohpur sub-division, which has a population of roughly 500,000 people.
How BFT helped Covid-19 affected people
Because of the Covid-19 outbreak, which kept audiences away from cultural events for months, popular Assamese musician Bipin Chowdang's earnings were decimated.
Rather than waiting for the COVID-19 restrictions to be lifted, Chowdang and his wife, Monoshree, chose an unorthodox career in fishing. Bipin and Monoshree finished excavation work on a new pond in a one-hectare area at Khoomtai Chakalia hamlet in eastern Assam's Charaideo district with a government subsidy of Rs 5.04 lakh and their share of Rs 3.36 lakh under a government scheme.
New technology for promoting extensive fish/shrimp production in a limited area is the biofloc-based farming system. With a minimal investment, a person with a small landholding (as little as 150-200 square metres of land) and either municipal piped water supply or bore well water supply can start this business.