Guwahati: Despite a reduction in severe acute food insecurity in India over the last few decades, undernutrition and micronutrient deficiencies are pervasive. India has one of the largest proportions of malnourished people in the world
Shri Prahlad Singh Patel, Union Minister of State for M/o Food Processing Industries, today inaugurated the National Conference on Millets on the subject "The Future Super Food for India' in New Delhi, which was organised by industry association ASSOCHAM with the help of M/o Food Processing Industries. The purpose of the conference is to address possibilities and difficulties in maintaining food and nutritional security.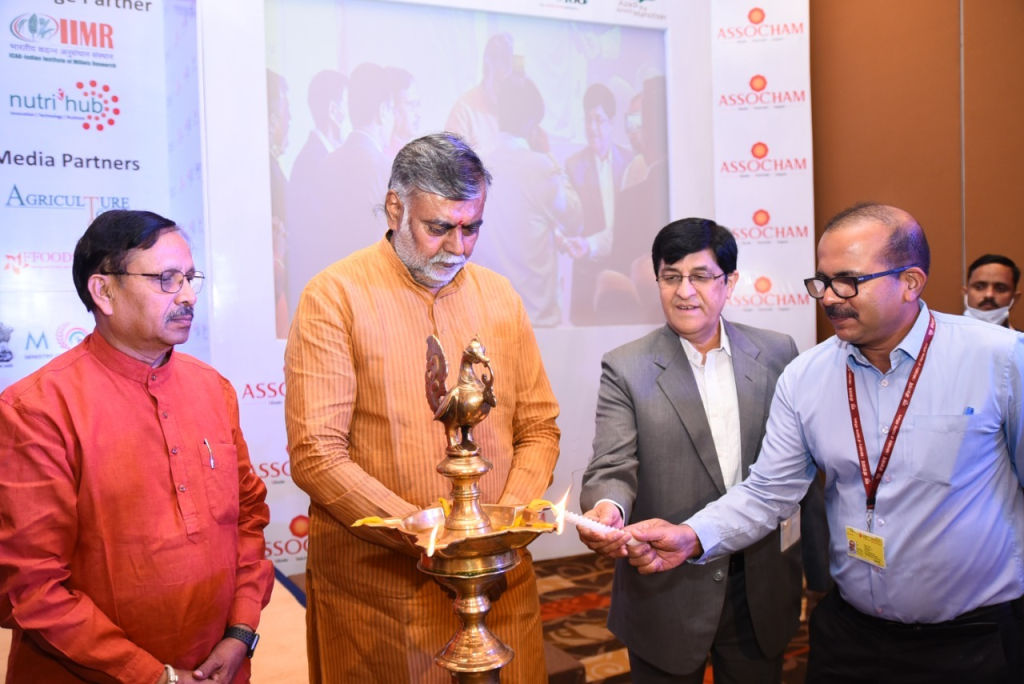 Despite the government's significant food security and anti-poverty efforts, low-quality food lacking vital micronutrients and unsanitary storage facilities remain a major issue in our country. Our major dietary habit comprises a diet based on a single type of food grain known as staple food crops. Millets, on the other hand, are a staple diet in many Indian groups and areas. Producing millets may also be quite profitable, and there is a great possibility to purchase millet-based goods classified as RTE/RTS.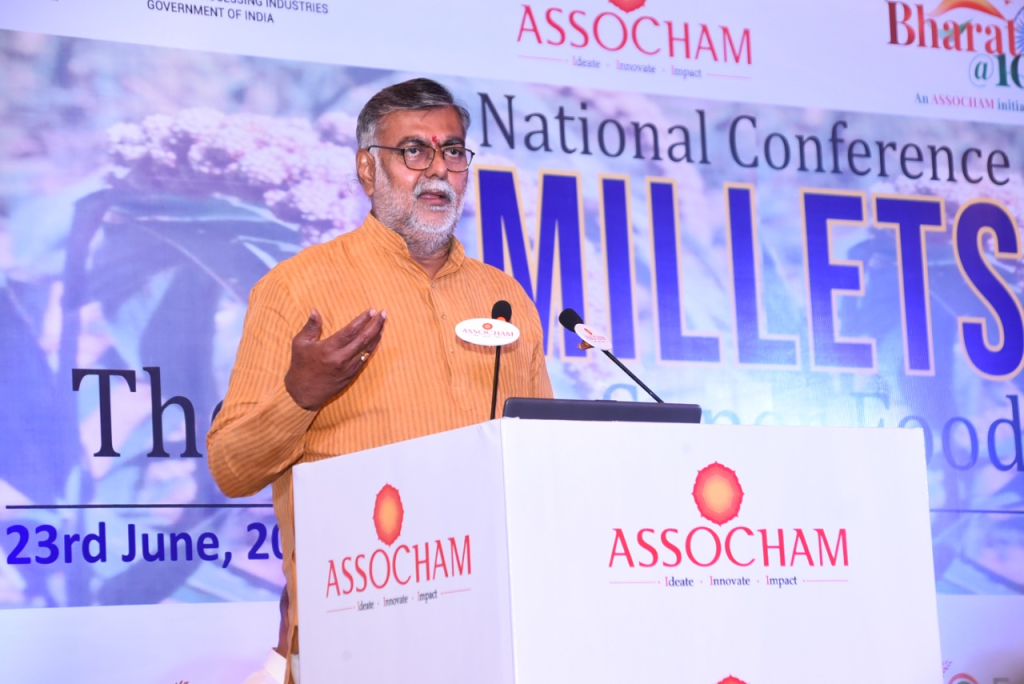 To address the issue, ASSOCHAM, in collaboration with the Ministry of Food Processing Industries, organised the National Conference on Millets
The conference aimed at providing a forum for leaders in the food processing sector, practitioners, scientists, farmers, industries, the organised agriculture sector, civil society, and non-governmental organisations (NGOs) to discuss and share successes, as well as to deliberate on the opportunities and challenges faced in ensuring food and nutritional security.
The Union Minister stated in his inaugural presentation that the country's output of coarse grains has climbed to 17.96 million tonnes in 2020-21 from 14.52 million tonnes in 2015-16, and that production of bajra (pearl millet) has also increased to 10.86 million tonnes in the same time.
According to Shri Prahlad Singh Patel, coarse grain is regarded as a storehouse in times of hunger due to its potential to be easily kept for a long period even under regular conditions.
Speaking at the National Conference on Millets on the benefits of millets, the Minister of State for M/o FPI stated that millets are among the oldest eatables in the country. It is a crop developed from little seeds that may grow well in arid locations or even on soils with low fertility and hence is recognised as India's superfood.
The Minister stated that due to their short growing season, millets can develop from seeds to ready-to-harvest harvests in around 65 days, which is critical in densely populated areas throughout the world. Millets can be kept correctly for two years or more. He argued that millets must be mainstreamed in order to enhance India's nutrition outcomes.
According to Shri Prahlad Singh Patel, the Government of India has already altered the guidelines to allow the transfer of surplus millets to other states. To meet advance demands put by consuming states prior to the start of purchase, the provision of inter-state transportation of surplus millets through the Food Corporation of India (FCI) is included.
Haryana, Uttar Pradesh, Chhattisgarh, Gujarat, Rajasthan, Madhya Pradesh, Maharashtra, Andhra Pradesh, Karnataka, Tamil Nadu, and Telangana are the major millets producing states in India.
Minhaj Alam, Joint Secretary, M/o Food Processing Industries, spoke on raising awareness about millets throughout the world, noting that India is currently the world's fifth-biggest exporter of millets. He stated that 2023 will be the International Year of Millets, which will generate value and promote sustainable goods in food choices. He also stated that greater investments are needed in millet production and processing.