A startup founded by two Guwahati-based entrepreneurs is on a mission to help farmers in the production and commercialization of their products, and in doing so to increase the percentage contribution of agriculture to the GDP of the North East region.
Founded by Bijaylakshmi Goswami and Taufik Ahmed, Agrithink Services LLP gathers, processes, stores and presents data while involving collaboration and communication specifically for farmers.
Over 50 percent of rural Northeast is primarily dependent on agriculture, yet the contribution of this sector to the state's GDP is lesser compared to other states of India. Agriculture in NER remains subsistence and its potential for commercialization has remained mostly unexplored.
"Marginal land holdings, poor infrastructure, low or no use of farm technologies, non-adoption of the best farming techniques, soil degradation due to over or under fertilization, and injudicious pesticide use, are some of the leading contributors to low agricultural productivity in this region. Some of the major hurdles, which need to be addressed urgently, are Soil Health Management and a stable marketing platform besides promoting Good Agricultural Practices (GAP). There is also much room for development in irrigation and micro-irrigation networks sectors," said Bijaylakshmi Goswami to Business Northeast.
What is Information Communication Technology (ICT) solution?
Information and communication technology is broadly an internet-enabled sphere. ICT includes gathering, processing, storing, and presenting data while involving collaboration and communication. It involves cutting-edge technologies like IoT, Artificial Intelligence, and Robotics alongside antiquated technologies, such as landline telephones, radio, and television broadcasts. In short Information and Communication Technologies (ICTs) is a broader term for Information Technology (IT), which refers to all communication technologies, including the internet, wireless networks, cell phones, computers, software, middleware, video-conferencing, social networking, and other media applications and service.
The need for Agrithink Services LLP:
Founders Goswami and Ahmed observed that farmers had limited access to technology due to high costs, the complex nature of technologies, and poor infrastructure, amongst other issues. "While consulting techno-based agro problems we realized that precision farming could be implemented in a real sense if, GAP (Good Agricultural Practices) and other innovative technologies are made available at every farmer's doorstep effortlessly. However, the urgent need for a techno-based platform of different domain experts to work together to increase quality crop production and bring socio-economic changes remained a driving force for us to step into ICT Service," said Goswami.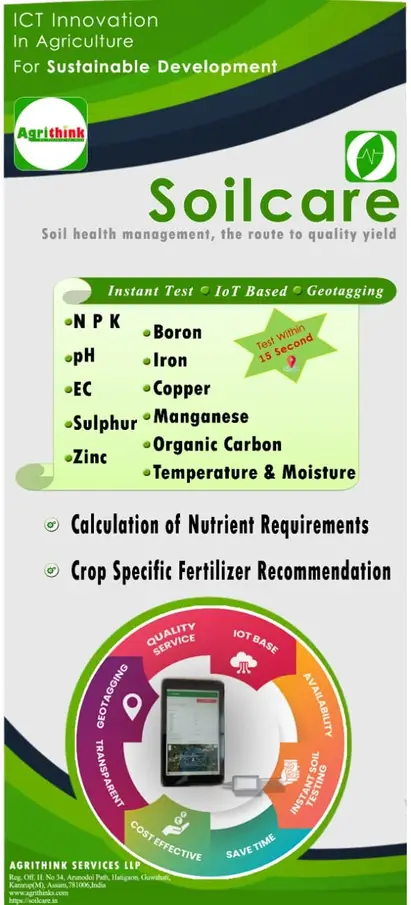 "Hence Agrithink was born." The ICT solution provides instant and accurate soil test results with crop-based fertilizer recommendations. It has cloud-based data storage and remote monitoring and controlling facility; integrated and portable smart IoT-based solutions, economical and affordable solutions. Agrithink also provides renewable energy-based solutions which are environment-friendly as well as offers Live expert services and consultancy platforms for the farmers.
Speaking about the investments made in Agrithink, the entrepreneurs opined, "Every innovation involves exhaustive Research and Development activities which are capital intensive, laborious, numerous sessions of brainstorming, unrelenting patience and of course great teamwork. Till now we have invested more than 40 lakhs, just to bring our soil-related innovation to the commercial level and the same goes for our other innovations too."
Impact on Farmers:
"Sensitization, training, and skill development in the agriculture sector is a herculean task considering the number of farmers, acceptability to change, their awareness, and their willingness to adopt contemporary state-of-the-art innovations. However, most of our agricultural workers have access to some form of ICT (Information and Communication Technology), even in the remotest area. These farmers are trained to use Agrithink's technologies which are as simple as using a smartphone." said Goswami.
Agrithink has conducted numerous field validation and crop impact experiments in farmers' fields across the northeastern region. "Farmers have trusted and accepted our technology because it is easily accessible without any complex myriads and the solutions provided are customizable at low cost. The farmers we have connected to so far have responded very well," she added.
Achievements so far
The ICT solution is empaneled to the Tea Board of India for providing Soil Testing services to all the tea gardens across India. Agrithink has also completed a pilot project at Model Floriculture Centre, Govt. of Sikkim at Namli (B2G). Furthermore, the startup is implementing soil tests at Govt. Model Farms at Namli and Assamlinzey in Sikkim; and has undertaken work from the Regional Agriculture Research Station under the Assam Agricultural University at Titabor (B2G).
"Among a few B2B clients, Innotech Agropostikam Pvt. Ltd., Guwahati and Orchid Farm at Hajo, and Kamrup (Assam) are worth mentioning for us. Soil testing service is in progress with many B2B and B2C clients. We expect to deliver our services to as many farmers and bring them under the umbrella of Agrithink's technology cover," she proudly added.
The firm, Agrithink Services LLP, has also got a few of its innovations patented. "Our first innovation Smart Micro-climate Monitoring and Control system is already patented. For our other innovation viz; IoT Based Instant Soil testing with Crop Specific Fertilizer Recommendation (Soil Care), the patent application was filed and already received the Patent Application number," Goswami informed.
ALSO READ: Centre provides relief of Rs.50,000 Crore to hospitality sector.