For two decades and more, entrepreneurship in Nagaland hills was looked down upon and there were not many who would like to start their own enterprise.
Entrepreneurship is a ray of hope in Nagaland Hills
But all this has changed with The Entrepreneurs Associates (tEA) founded by Neichute Doulo in 2000 promoting entrepreneurship for communities in Nagaland and the North East Region.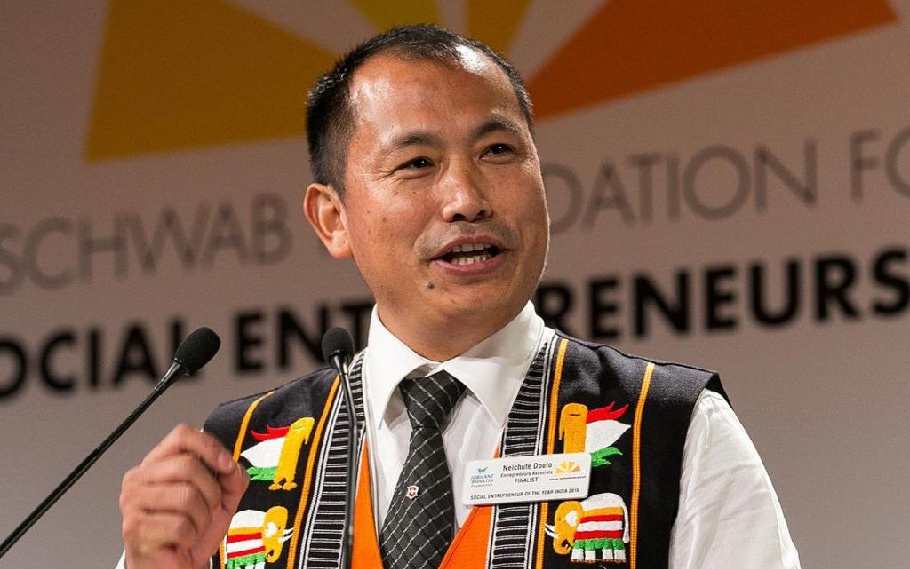 The results are there to see today– The Entrepreneur Associates had directly financed and launched 18000+ First Generation Entrepreneurs. The initiative has generated local jobs for over 35,000+ youth in Nagaland hills and Manipur. It has also enhanced livelihood activities in rural areas for over 15,000+ farmers and mobilized food producer organisations.
The Micro Enterprises range from being managed by the micro entrepreneur himself or herself to employing over 100 people. Such income ranges from Rs.2 lakhs per annum to about Rs.15 crores per annum.
Entrepreneur Associates of Nagaland hills in conversation with BNE:
"In order to understand the significance of the creation of The Entrepreneurs Associates (tEA) it is important to understand the situation of Nagaland in 2000 wherein the state was in the throes of insurgency, political unrest and societal disdain for any job apart from white collared government jobs. In those days, economic activities of any kind, whether large or small, were completely done by non-locals while Nagas were averse to all forms of private jobs particularly those that involved menial jobs" Neichute Doulo told Business Northeast.
Neichute Doulo, who was a lecturer at the Baptist College in Kohima, and an active youth leader observed that if local communities in the North-East including the Nagas did not take economic development seriously, it would lead to social unrest akin to situations in many parts of the world.
Neichute could clearly foresee the future where government jobs would become saturated, leading to frustrations among youth as only a very few would be able to secure government jobs; a reality being faced today.
Convinced that something needed to be done, he decided to influence some of his closest friends and people who were part of his previous initiatives such as Beacon of Hope in 1992 and Reach Home Service – delivery system in 1998.
After a few meetings 16 of them, including Neichute, decided to form a non-profit group named Entrepreneurs Associates (EA). Today the group of Entrepreneurs Associates and a group of social ventures that has been birthed along the way is now known as The Entrepreneurs Associates (tEA).
Funding:
"Sustainability is at the core of the works of The Entrepreneurs Associates (tEA). It has been very clear that we need to secure our works and ensure that we can survive in the absence of funders and investors" he said.
The Entrepreneurs Associates (tEA) is a leader in social innovation and fund raising which ensures that many of the programs do not need outside investments. EA regularly conducts sales of organic products sourced from its farmers, beneficiaries and networks
"In the initial years 16 core members contributed Rs 500 monthly towards the corpus of the organisation besides raising funds through marketing different products" he said.
How did it all happen?
In the early years of The Entrepreneurs Associates (tEA), the immediate task of the organisation was to create awareness about the need for local people to take up entrepreneurship. This was achieved through community outreach programs, church meetings, interactions with schools, colleges and utilizing any platform that could be accessed.
The founding 'Core Members' as they were called, created a buzz trying to provoke the thoughts of people to look at a different paradigm of economic growth, not through the government but through economic development. The Entrepreneurs Associates (tEA) began publishing a newsletter which slowly became an in- house magazine called 'KATALYST' which shared positive stories of individuals travelling the road less travelled and beating the odds to take up entrepreneurship.
"It was not easy as their families viewed their idea skeptically and considered them stupid for this decision. It is to be understood that back then owing to insurgency, shops were closed by 4 pm and it was considered not too safe to be out for long hours. In such a scenario, trading did not look promising" he says.
The Entrepreneurs Associates while creating awareness has also been coming up with training specific to the requirements of different groups of people. "Our active inhouse incubation team has been conducting training for youth, women and even students encouraging them to look at options beyond government jobs," he said.
In fact in their meetings, Neichute says the potential of business and how it holds more promises for individuals willing to work hard and give their all.
"We encourage them to do a deep dive into the self and see if they have the potential to get a government job and be realistic in their assessment. If they are meritorious students or have a good network, they may get government jobs but that may not be the case for the majority" he says.
"tEA also encourages individuals to skill themselves and regularly conducts training on chips & jam making, soap making, which can help them discover their inner calling," he says.
What are the new sectors in which EA is looking to help the youths?
"In the early years of our inception, encouraging Nagas to look at trading was our primary focus, however over the years we have diversified. The pandemic opened to us the immense opportunities and the dire need to develop agri-business as the region is heavily dependent on imports of food products from all over the country" he says.
The Entrepreneurs Associates (tEA) is working intensively for the promotion of Fruit Trees across Nagaland under the 'Trees for Wealth' (TfW) movement which targets to plant 1 billion fruit trees by 2050 in the Northeast region and beyond. Under this TfW movement, tEA is working closely with youth, farmers and local communities, encouraging and motivating them to build micro-orchards that can generate incomes and create livelihood options for many. Under this movement, tEA is looking at impacting 1 million farmers and building a 1 trillion economy through direct and allied openings.
Thirty-eight-year old Kuchilu S Venuh, a mother of four and a street vendor from Phek has been street vending for almost my entire life. "Being illiterate the only thing I could do to support my family is to take up street vending. Back then I didn't even have a normal savings account. But in 2019 after I have been introduced to The Entrepreneurs Associates (tEA) my life has changed drastically" she said.
"Since then I have started saving on a weekly basis with the profit that I get from street vending. After 3 years of saving, I was provided an interest free loan which helped my family to acquire a car. This helped me to expand my business in transporting the products to the market. Through this my family is able to procure our basic needs for which I'm grateful to The Entrepreneurs Associates," she says.
"Now a lot of people are opting for entrepreneurship and things are changing, though slowly" another official said.
ALSO READ: TEA WAGE RERVISION TO HIT PROFITABILITY OF TEA INDUSTRY IN ASSAM