NFR to handle 65 million tonnes of traffic by 2025
Spread the love
The Northeast Frontier Railway (NFR) has laid stress on faster adoption of PM Gati Shakti as traffic being handled is expected to increase manifold.
NF Rly General Manager Anshul Gupta told Members of Parliaments (MPs) that much emphasis has been laid on faster adoption of PM Gati Shakti in northeastern states for handling both outward and inward traffic so that rail, road and port gets integrated. NFR serves the constituencies of the present MPs in their Rangiya and Lumding divisions.
The General Manager claimed that NFR expects to handle 65 million tonnes of traffic by the end of 2025 from the current margin of 30 million tonnes.
According to him NFR has currently 6, 829 km railway network and 1, 242 km will be added to this network of which work is in progress, Adding "the projects for improving rail connectivity to the State capitals in the northeastern are on full swing". He further added that NFR has put efforts on various other developmental works to further increase capacity for movement of both passengers as well as goods traffic.
Understanding the importance of connectivity in the northeast region being the gateway of Southeast Asia, Gupta stressed on the need of connectivity projects in Northeast.
Moreover, first Gati Shakti Multi-Modal Cargo Terminal (GCT) has been commissioned at Moinarbandh under Lumding Division on March 29 this year and another GCT at Cinnamara station under Tinsukia Division has also been commissioned.
The MPs present in the meeting suggested extension and improvement of railway connectivity, upgradation of stations and preservation of old heritage stations, etc.
N. F. Railway is planning to develop about 36 goods shed through PPP mode over five divisions in states of Assam, Arunachal Pradesh, Tripura, Nagaland, Sikkim apart from parts of Bihar and West Bengal within its jurisdiction. PPP model for goods shed over N. F. Railway is expected to increase its freight business.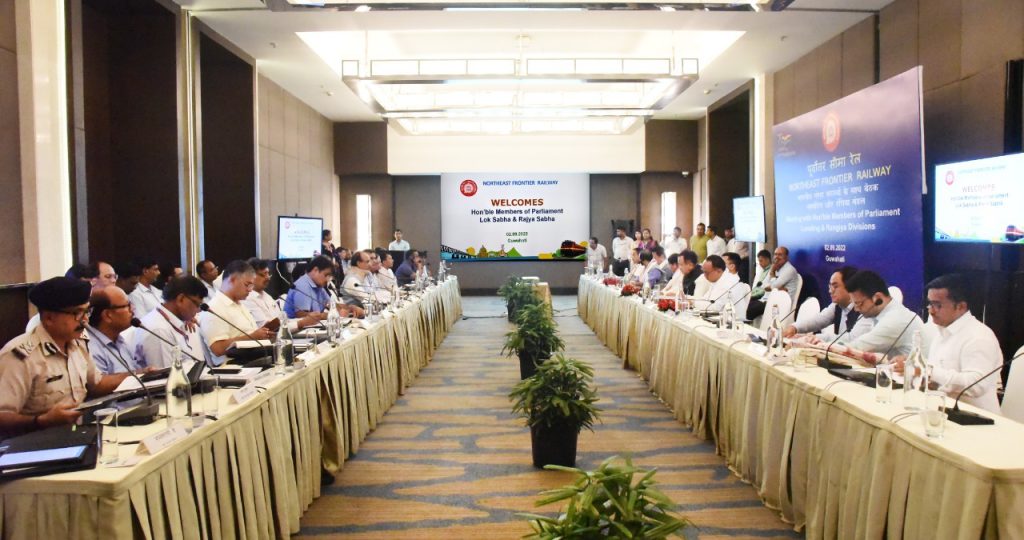 PM Gati Shakti: PM Gati Shakti was launched in October 2021 is a National Master for multi-modal connectivity in New Delhi. Gati Shakti is a digital platform which is planned to bring 16 ministries including Railways and Roadways together for integrated planning and co-ordinated implementation of infrastructure connectivity projects. The multi-modal connectivity will provide integrated and seamless connectivity for movement of people, good and services from one mode of transport to another. It will facilitate last mile connectivity of infrastructure and also reduce travel time for people.
The need for Gati Shakti arose as in India, particularly, because of lack of co-ordination between different departments infrastructure creation has suffered a setback for decades.
NITI Aayog had said steps have also been taken to address other issues like time-taking approval process, multiplicity of regulatory clearances etc. In the last seven years, the Government has ensured unprecedented focus on infrastructure through a holistic outlook.
ALSO READ : Double Railway line between New Bongaigaon and Bijni stations commissioned to augment sectional capacity.