Guwahati: Organic spices from the North Eastern Region are hitting global markets and Spices Board India has decided to promote them in view of Prime Minister Narendra Modi's thrust on rapid and sustainable development of the region.
From Lakadang turmeric grown in the Jaintia Hills of Meghalaya to Karbi Anglong Ginger many are finding newer world markets.
To know more about the future plans, Business North East's Priyanka Chakrabarty spoke to Dr Dwijendra Mohan Barman, Deputy Director, Spices Board.
BNE: Please tell us something about Spices Board India.
Dr. Barman: The Spices Board is an export promotion body under the Ministry of Commerce and Industry of the Government of India. It was established in 1986. Earlier it was called Cardamom Board but under Parliamentary Act of 1986 it was named as Spices Board. It basically works on the promotion of exports of spices from India.
It has some specific functions, like research, development, regulation, and marketing of small and large cardamom. Further, we do post-harvesting of all spices, promotion of organic production, processing and certification of spices, development of spices in Northeast India.
India is the largest producer, consumer, and exporter of the spices. But the Spices Board is mandated to work on cardamom (large and small cardamom).
Under the purview of the Spices Board, there are 52 items. There are other 51 spices, and the Spice Board is entrusted by the Government of India for research, development, and marketing of small and large cardamom.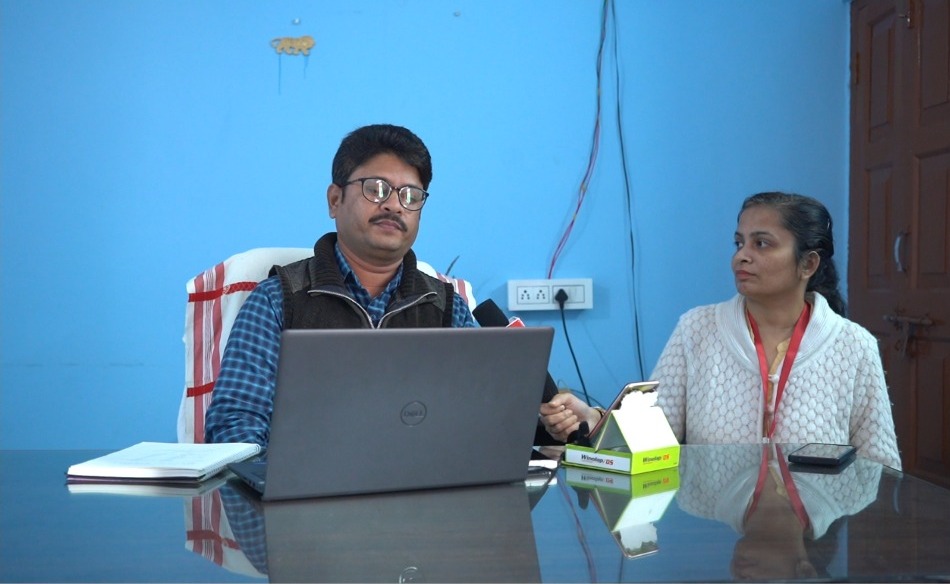 BNE: What is the scenario of spices cultivation in the North Eastern Region?
Dr. Barman: Yes, the northeast region has a good resource in biodiversity. Here, naturally, some spices are grown.
From the entire northeastern region, in 2021–2022, the area cultivated was 2,33,758 hectares under spices, and production was 7,53,626 metric tonnes (MT).
Worldwide, the demand for organically grown spices is very high.
For example, if you talk about turmeric, we have a very good variety like Lakadang turmeric grown in the Jaintia Hills of Meghalaya, which has almost 9 percent curcumin content. Nowhere in India or the world is that much curcumin available in a turmeric variety.
BNE: What is volume of exports of spices from North Eastern Region?
Dr. Barman: India is the largest producer, consumer, and exporter of spices. From Northeastern states we exported spices Rs 7. 15 crore in 2021-22. Spices like large cardamom, ghost chillies, ginger, and turmeric are being exported from the northeastern states. Region produces very little of these six spices, but they are in demand in the global markets.
BNE: How are the spices being procured from the farmers from the remote places of the region?
Dr. Barman: Yes, as I have already mentioned, the northeast is a remote area. It is very difficult to connect with other parts of India for bucket quantities. Transportation is a very huge problem here. But as I have mentioned that spices are low volume and high value product. For instance procurement of ginger, turmeric are taking place directly from Delhi Mandi and Siliguri Mandi. Importers from various other countries are procuring directly from farmers and farmers' producers companies.
BNE: What is the Spices Board's role in the entire process?
Dr. Barman: As we grow large cardamom in Northeastern region particularly in Arunachal Pradesh, Manipur, Sikkim and Nagaland. For large cardamom, for dealing with spices, the trader is required to take license from Spices Board. Once they are awarded a dealer license, they can procure large amounts of cardamom from the farmers' fields and sell it anywhere in India.
Similarly, for export, they have to get an export license from the Spices Board. After that, they can export not only large cardamom but other spices too to other countries. The role of the Spice Board is to connect the farmers with the buyers. Very frequently, we used to conduct buyer-seller meets, international events, and bring international buyers to the northeastern states and domestic buyers too. But we do not determine price and other factors.
BNE: Which are the major markets for spices from the North Eastern Region?
Dr. Barman: Indian spices are going to 180 countries. If you see the northeastern spices, it is mostly growing to Pakistan, Bangladesh, Saudi Arabia and various countries. Even Naga Chillie is going to the United Kingdom (UK) and the United States of America (USA).
As I have mentioned, the northeastern states are organically grown, so there is demand everywhere. Bangladesh is taking huge quantities of ginger, and some other spices, like cumin, are imported by Bangladesh through northeastern states like Tripura and even Assam. So, various destinations are there for spices.
BNE: Are there spices from Northeast which has Geographical Indication (GI) tag?
Dr. Barman: We have almost 7 GI tagged spices from Northeastern states. Like from Assam, Karbi Anglong ginger is a GI tagged ginger, Hathei Chillie from Manipur, large cardamom from Sikkim, round chilies from Sikkim, Round Chilies ( Dalle Khursani) from Sikkim, Bird's Eye Chilies from Mizoram, Mizo Ginger from Mizoram, Naga Chilies from Nagaland. These are the GI spices.
Ghost chilies from Assam have still not received a GI tag. GI tagging for Lakadang turmeric is under process in Meghalaya.
BNE: What are the challenges and prospects in promotion of spices from the region?
Dr. Barman: Actually, as I told the northeastern states, including Sikkim (eight states), our demography and topography are very different; farmers are very small and marginal farmers. The spices are mainly grown on the hilly terrain.
When we talk about export quality, it cannot be compromised. Spices Board has a quality evaluation laboratory in all metropolitan cities, and even in ports where transactions are going on, we have a quality evaluation laboratory where traders, farmers, exporters, importers, and everybody else can test their products. In Guwahati also, we are proposing to establish a Quality Evaluation Laboratory.
So far as challenges are concerned, it is mainly transport. Farmers are producing very little quantity, and now, with the help of the farmers' producers' company, we are overcoming that problem. Aggregation is a challenge in northeastern states.
BNE: What are the future plans Spice Board India has in hand to improve production and revenue generation in the country as well as in the region?
Dr. Barman: Yes, the Spice Board already has different types of schemes. If you talk about cardamom, replanting schemes, new plantation schemes, and certified nurseries for cardamom. We are already implementing in northeastern states also and for production parts of other spices we are talking with the state government as well so that state government can boost the production for all other spices except cardamom. Cardamom is taken care of by us.
The Spices Board is planning to establish one quality evaluation laboratory in Guwahati so that it can serve all the northeastern states. Now, all the traders and exporters were complaining that they had to send their samples to other states, and it takes time. It is not cost effective as well.
ALSO READ: PBGPL will earn at the rate of 14% from gas supply: CEO