Shah lays foundation stone for 21 projects worth Rs. 1,311 cr in Manipur
Spread the love
Manipur: Union Home and Cooperation Minister Amit Shah, on Friday inaugurated and laid foundation stones for 21 projects costing around Rs. 1,311 crore, in Manipur the Ministry of Home Affairs said in a statement.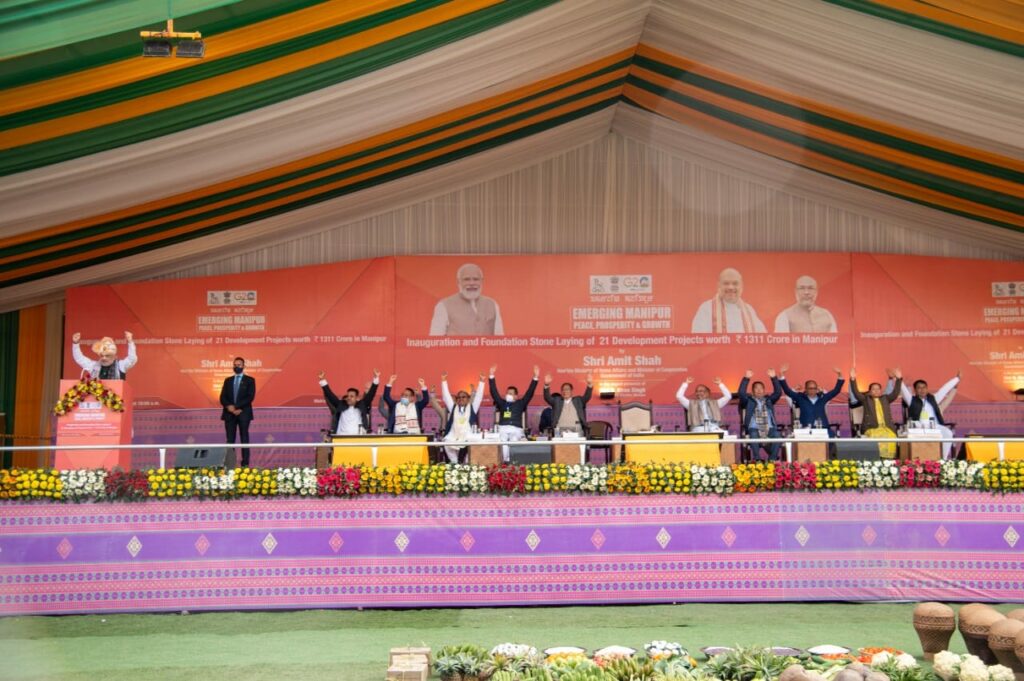 These include the Marjing Polo Statue, the Churachandpur Medical College, the Fruit Preservation Factory, the Neelakuthi in five districts of the state, the Manipur Olympian Park in Sangaithel, the Manipur Exhibition Center in Imphal-East, and the District Youth Skilling and Employment Centers.
N. Biren Singh, the chief minister of Manipur, was present on this occasion along with other dignitaries.
In his speech, Amit Shah claimed that Manipur is moving forward on the road of development, peace, and prosperity under the leadership of Prime Minister Narendra Modi and Chief Minister N. Biren Singh and is now free from terrorism, bandhs, and blockades. As a consequence, 29 projects totaling Rs. 2450 crores in value had their foundation stones put on January 6, 2017, and today, 21 projects totaling over Rs. 1,300 crores had their foundation stones placed.
He said that the Manipur government had created a monument for the victims of "Azad Hind Fauj" by restoring the homes that the British had shelled and that this memorial would not only encourage Manipur's youth to give their life to the country but would also contribute in the growth of this area as a major tourism destination.
ALSO READ: No more visits to bank to update KYC: RBI