Tata Sons proposes to bring low-fare airline AirAsia India under the Air India umbrella if its bid for the state-owned carrier succeeds, said top executives aware of the plan. At a later stage, full-service carrier Vistara is also likely to be part of a combined entity if Singapore Airlines (SIA), its 49% shareholder, comes on board.

Malaysia's AirAsia Bhd, which owns about 16% of AirAsia India, will exit by March 2022, selling its remaining stake for $18 million, said one executive.

The Tata group has also reached out to SIA about its eventual plan to group their joint venture Vistara under a single airline entity to ensure synergies and eliminate duplication.

Financial bids for Air India were submitted on September 15 by Tata and SpiceJet promoter Ajay Singh.

Tata group is exploring plans to hire integration specialists to create a single airline entity, given the complications involved in combining multiple organisational structures, said the people cited above.

"The group has been very clear that if and when the Air India acquisition is done, the strategy is to have one entity," said one of them. "Scale-up the game and be the number one player in the space. AirAsia is now a Tata company and so it will be easier to merge the business. Also, operationally, it would not be sensible in a thin-margin competitive sector to have multiple cost structures. SIA is aware of the intent and dialogue is on."
Currently, Air India, AirAsia India, and Vistara together have a 26% share of the domestic air passenger market, according to the latest Directorate General of Civil Aviation figures. Market leader IndiGo has a 57% share.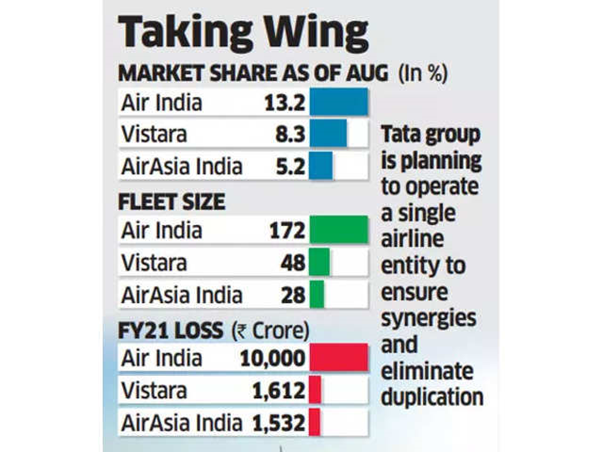 Tata Sons owns close to 84% of AirAsia India. Late last year, it bought an additional 32.67% in the budget carrier, from 51%. According to the agreement, Tata has a call option on the remaining 16.33% of AirAsia India. The conglomerate holds 51% of Vistara and SIA has the rest.
Upon AirAsia's exit, its brand will cease to be part of the venture. Tata has appointed Seabury Group and Bain Capital to conduct due diligence before it invests in Air India if the bid succeeds.

The group has bid for the national carrier through a new subsidiary, Talace Ltd. It's not clear yet if Talace will be the single holding entity of the group's airline businesses.

Tata group had originally hoped to rope in SIA and make the bid through the Vistara joint venture. The Singaporean carrier had, however, waived their no-compete clause, allowing Tata to go ahead with a solo bid for the stricken carrier. The group's airline businesses, comprising Vistara and AirAsia, are seen as subscale and in need of momentum, an insider said