Assam PMMSY brings oxygenated vans for fresh fish
Spread the love
Morigaon district of Assam gets revolutionary mobile fish marketing centre to boost fish farming and their income
Morigaon: Rupa Bharali had little to look forward to till now, but she is hoping for a big catch.
A resident of Jagiroad, a small town about 50km west of Assam capital Guwahati, Rupa has found the way to keep her live fish fresh for an extended period since she procures it every morning. Thanks to an oxygen-equipped vehicle with a two-quintal capacity given out to beneficiaries under the Pradhan Mantri Matsya Sampada Yojana (PMMSY).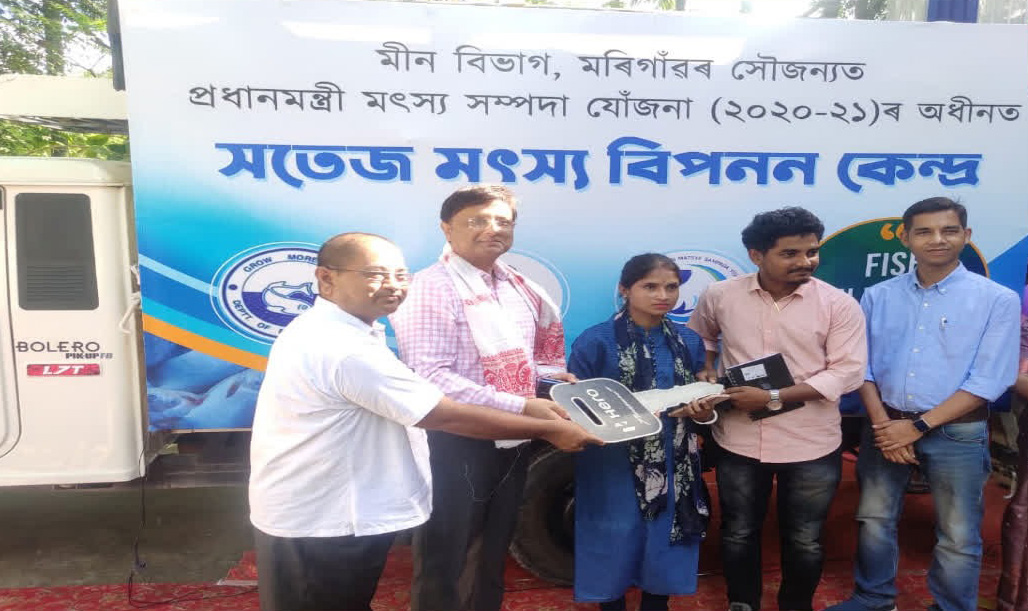 Rupa has got the chance to be the owner of what's aptly named the Mobile Fish Marketing Centre, a novel idea to help small traders expand scope of business and keep their stocks fresh. It is a Rs. 20 lakh project being shepherded by the district fisheries department. Over half the project amount is a grant from the Centre while the Assam government has contributed Rs 1.2 lakh. The beneficiary has to arrange Rs. 8 lakh which is an attractive 60:40 ratio of financing the project where the beneficiary shells out just 40 percent of the total cost.
"It is an excellent scheme to increase incomes at the grassroots, in a unique way" said Morigaon deputy commissioner Devashishi Sharma while inaugurating the mobile fresh fish marketing center under the PMMSY on September 21.
Fish is a staple in Assam and any innovative ideas relating to fish and fishing in the land of the mighty Brahmaputra is bound to get traction.
Due to its proximity to Jagiroad, Asia's largest dry fish market, the Morigaon region of Assam may prove to be the ideal location for such cutting-edge mobile fish selling centres.
Rupa, earlier an unemployed woman of Jagiroad will now a source of income to improve her livelihood.
"She has become the first woman and the only person from Morigaon to benefit from the Pradhan Mantri Matsya Sampada Yojana since the district adopted the scheme," sub-divisional fisheries development officer Trinayan Dev Sharma told Business-Northeast.
Later, boosting the youths of Morigaon, the DC urged them to engage in fish farming and take adavantages of the government schemes.
Pradhan Mantri Matsya Sampada Yojana (PMMSY) is a scheme under the department of Fisheries, union Ministry of Fisheries, Animal Husbandry and Dairying to bring the Blue Revolution through sustainable and responsible development of fisheries sector in India at an estimated investment of Rs. 20,050 crores for holistic development of fisheries sector including welfare of fisherfolk. PMMSY is being implemented in all the States and Union Territories for five years starting FY 2020-21 to FY 2024-25.
In Assam, over 200 proposals from beneficiaries have been sanctioned under PMMSY, according to government reports.
In the northeastern states, PMMSY projects worth Rs958.26 crore have been sanctioned with a central share of Rs525.28 crore (FY 2020-21 to FY 2022-23) in northeastern region. Northeast has achieved 72% of its total envisaged investment (Rs 1331 crore) and 68.39% of the allotted central share (Rs 768 crore), according to the government.
The prime minister's scheme is expected to be a catalyst for Assam's fisheries business. The state is soon going to achieve its target of producing 5 lakh MT fish per year. "Previously, the fish production per year was 4.17 lakh MT. And with the increase in beneficiaries, the fish production in the state has been almost doubled," said State Fishery Information Officer and Managing Director of FISHFED, Dr. Dhruba Jyoti Sharma.
As Rupa readies to start her mobile centre, there will be many across Assam waiting for such opportunities and of course, for more fresh fish.
ALSO READ: Assam's ambitious tea tourism project moves forward with selection of 22 tea estates for phase one