Guwahati: The Department for Promotion of Industry and Internal Trade (DPIIT), under the Ministry of Commerce and Industry has asked startups to register on the MAARG portal. MAARG (Mentorship Advisory Assistance Resillience and Growth) is the National Mentorship Platform which is conducted by Startup India.
Assam Startup Nest is also going to organize deliberations and brief the startups regarding the MAARG portal on November 24.
"To further boost the Indian startup ecosystem, Startup India is focusing on catalysing the startup culture and building a strong and inclusive ecosystem for innovation and entrepreneurship in India. The MAARG portal is a one stop platform to facilitate mentorship for startups across diverse sectors, functions, stages, geographies, and backgrounds," the press statement by the ministry noted. "DPIIT has initiated the onboarding process of startups under Phase II from November 14," said a press statement.
"The MAARG portal has been operationalised in three phases including mentor onboarding, startup onboarding and mentor matchmaking," said a press statement.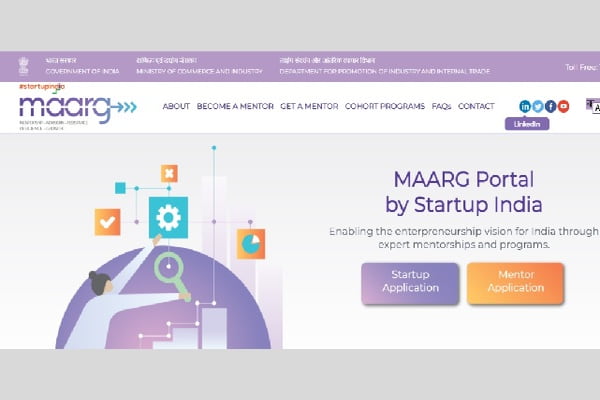 DPIIT has encouraged startups to apply for mentoring at the MAARG portal. The main objectives of the MAARG portal are-
-To provide sector focused guidance , handholding and support to startups throughout their lifecycle
-To establish a formalized and structured platform that facilitates intelligent matchmaking between the mentors and their respective mentees
-To facilitate efficient and expert mentorship for startups and build an outcome oriented mechanism that allows timely tracking of the mentor-mentee agreements.
The Ministry in a press statement also reported that 400+ expert mentors are onboarded across sectors since the inception of the portal on November 14.
"Startups can now effectively connect with academicians, industry experts, successful founders, seasoned investors, and other experts from across the globe, through Artificial Intelligence (AI) based matchmaking, to get personalized guidance on growth and strategy," said DPIIT.
"Highlighting key features of the portal, the Ministry stated that it will include customisable mentorship programs for ecosystem enablers, mobile-friendly user interface, recognition for contributing mentors, video and audio call options, etc," it added.
"It will be very helpful for the startups and as well as budding emtrepe Guidance expertees in your robotics, defense, space energy. Development process of the start ups will be accelerated and help them reach the market sooner", said Arnab Barman, founder of DSRL which is a robotics and defense startup based in Assam.
When Business-Northeast contacted Pranjal Konwar who is the Chief Operating Officer (COO) of the Assam Startup Nest, he said "we just came to know about the MAARG portal today. In reference to the portal, we are going to have deliberations tomorrow since it is very new for us and for all the startups.
Business-Northeast got hold of many local entrepreneurs and asked them whether they are aware about the new initiative by Startup India but most of them were unaware about the initiative.
ALSO READ: Assam Startup successfully concludes its 2nd edition of NestConnect 2.0