Guwahati: Ruchi Soya Industries has announced the acquisition of Patanjali Ayurved's complete food division for Rs 690 crore in order to expedite its transformation into a top FMCG firm.
The purchased food business includes 21 goods such as ghee, honey, spices, juices, and atta.
"The acquisition is appraised at a fair market value of Rs 690 crore based on all the fixed assets of the food business and related current assets on a slump sale basis," the firm said in a stock exchange statement on Wednesday.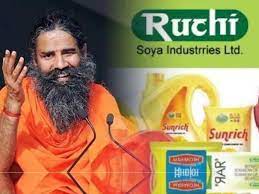 Patanjali Ayurved's board of directors also authorised the transfer of the food business to Ruchi Soya Industries, which will take effect on May 9. Ruchi Soya would acquire production units in Maharashtra's Padartha, Haridwar, and Newasa.
The money will be paid in three installments. In the first tranche, 15% (Rs 103.5 crore) of the total acquisition amount must be paid concurrently with the execution of the business transfer agreement or within three days of its execution.
The remaining 42.5 percent (Rs 293.25 crore) of the total acquisition consideration will be paid within 0 days after the closing date in the second phase. The deal is anticipated to close on July 15.
"This strategic plan for the purchase of food business shall improve its food product range with a variety of brands and also contribute to revenue and EBITDA growth," the firm stated in a stock market filing. "With this purchase, the business also announced that it has confirmed its position as a strong FMCG company in its journey towards becoming a key player in the FMCG industry as pledged to its shareholders at the time of its first FPO," the statement continued.
On April 10, Ruchi Soya Industries' board of directors agreed to change the company's name to Patanjali Foods.