Union Minister of Ports, Shipping & Waterways Sarbananda Sonowal said the newly built up ship building facility of Hooghly Cochin Shipyard Limited in West Bengal will boost water transport connectivity to the Northeast.
Sarbananda Sonowal dedicated the ship- building facility at Hooghly Cochin Shipyard Limited( HCSL) at Howrah in West Bengal built at a cost of Rs 180 Crores to the nation yesterday.
Speaking at the occasion, the Union Minister, Sarbananda Sonowal said, "I am extremely happy that such a state of the art shipyard is coming up on the banks of the Hooghly in Kolkata.
"This will provide a great boost in meeting the requirements of new generation, high technology, greener vessels to propel further growth in inland water transport along the National Waterways. This will also be great impetus to water transport connectivity to the North-Eastern states" Sonowal said.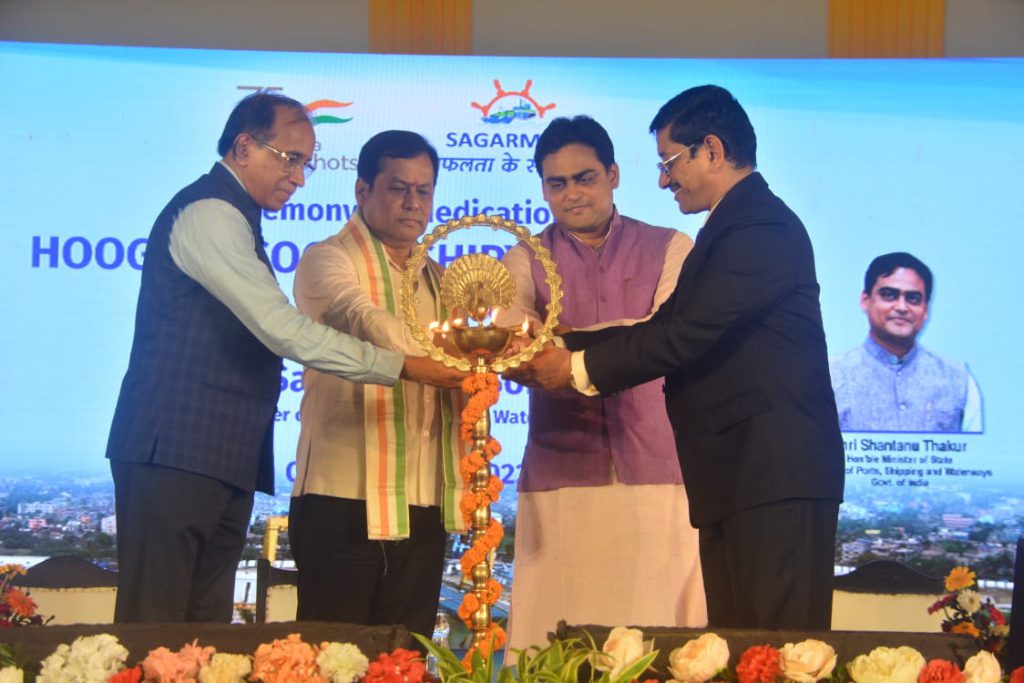 The yard will not only enable economic development in the close region, but will also provide direct and indirect employment as well as development of MSME's and ancillaries.
National Waterway-1 covers Ganga – Bhagirathi – Hooghly for a length of 1620 Km covering state UP, Bihar, Jharkhand, West Bengal and NW-2 covers West Bengal, Assam, Arunachal Pradesh, and Meghalaya. Jal Marg Vikas project is a Government of India initiative for capacity augmentation of shipping and navigation on the national waterways No 1. This would enable commercial navigation of 1500- 2000 ton vessels in Phase 1.
"The development of the national waterways will provide business opportunities for cargo movements, passenger vessel construction and operations, cruise operations, ship repairs etc. Further, under Pradhan Mantri Matsya Sampada Yojana, there is an opportunity to build Deep Sea Fishing Vessels at HCSL" he said.
HCSL aims to position itself as a lead player in inland waterway vessel construction in the country.
"It will serve the inland water transport sector by construction of inland water vessels for transport of men & material along and across the National Waterways, mainly Ganga (NW1) & Brahmaputra (NW2)" he said.
ALSO READ: Elderly care sector witnessing buzz of activity; looking to expand in two, three tier cities.